Calendar of events
(Switch to text-only "list" view which is best for printing.)
A.I.M. Vancouver General Meeting
(British Columbia)

To be announced.
604.580.0112
Send us notification of your event for this calendar. We will also gladly display most posters. Posters are acceptable in the following formats: JPG/JPEG, GIF, PNG (minimum width of 500 pixels required)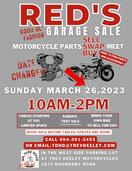 CANCELLED March 5th,2023 Red's Garage Sale NEW Date March 26th,2023 [full printable version]
March 5th,2023 10am to 2pm Canelled New Date March 26th,2023
Hi Everyone,

Due to current weather conditions the swap meet scheduled for Sunday March 5th at Deeley H-D has
been rescheduled to Sunday March 26th.



Motorcycle Parts Sell/Swap/Buy Meet

Sunday March 5th,2023
(Rain Date Be March 12th,2023 if Needed)
Any questions
Call: 604 291-2453 or Email: TDHD@TREVDEELEY.Com
36th Annual Coombs Motorcycle Swap Meet [full printable version]
Coombs Swap Meet April 2, 2023

Come say hello and renew your BCCOM membership or find a part you have been looking for!

Vendors please call Mike Carter @ 1.250.954.3332

Coombs Swap Meet, Arrowsmith Hall 1014 Ford Rd. Coombs BC

Disciple Christian MC Bike Blessing [full printable version]
April 29,2023 Disciple Christian MC Bike Blessing

DCMC's 8th Annual Blessing of the Bikes hosted by the Roughneck Crew.

2023 riding season is around the corner. Have your bike and riding season prayed over. Donate towards great causes like Joshua House Recovery and Teen Challenge and enjoy a BBQ while you are here.

Everyone is welcome, all bikes are welcome.

Event starts at 11:00am at Barnes Harley Davidson in Langley.

Kick Stands up at 1:00pm

Look forward to seeing everyone.

www.disciplechristianmc.com
Classic and Vintage Motorcycle Swap Meet & Show'n Shine [full printable version]
April 30th,2023

TheThe 33rd Classic & Vintage Motorcycle Swap Meet & Show 'N Shine is the largest event in Western Canada and the Pacific Northwest.

And the in 2023 there will be over 150 vendor stalls. There will be parts, bikes, accessories and clothing of all periods from 1900.


Classic Bike Swap Meet will be held in be held
SUNDAY APRIL 30, 2023 at the Abbotsford Exhibition Park AGRIfair Arena.


To register your motorcycle, call 604-299-0020 or email toddcopan@gmail.com
Renegade Riot [full printable version]
Friday,Jul 7, 12:00 p.m.–Sun, Jul 9, 12:00 p.m.

Gold Panner Campground
423 BC-6, Cherryville, BC
Renegade Riot is a Motorcycle Rally/Moto Camping Experience returning to Gold Panner Campground July 7th-9th, 2023. We are a community of like-minded moto enthusiasts dedicated to good times, new..
16th ANNUAL MOTORCYCLE SHOW & SHINE [full printable version]
16th ANNUAL MOTORCYCLE SHOW & SHINE
Sunday, July 30, 2023
12-5 pm
Raising money for Zajac Ranch for Children
Entire parking lot licensed
All motorcycle welcome. Hot Rods Welcome
Certified Judges.
Vendors
Interested in being a vendor?
We are always in need of Volunteers !
For more information contact Nancy:
Nancy@sasquatchinn.ca
604-556-6542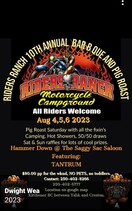 Rider's Ranch 10th Annual Bar-B-Que and Pig Roast [full printable version]
August 4th to August 6th, 2023

Riders Ranch Motorcycle Campground
Hwy 3, Kitchener, BC, Canada V0B-1W0

Details
It's out tenth Anniversary of our Family and Friends Pig Roast. All riders welcome!
Plus we have awesome food vendor this year!!

Mark your calendar and we hope to see you this year.

For more information call
250-402-8266
Events, posters, and other information presented within this calendar are, to the best of our knowledge, true and accurate; although we make a genuine effort to provide accurate information about third party events, you are ultimately responsible for verifying the information to rule out the possibility of errors, omissions, and unexpected changes or cancellations.