⇛ Supporters
Calendar of events
(Switch to text-only "list" view which is best for printing.)
A.I.M. Vancouver General Meeting
(British Columbia)

3rd Thursday of every month, 7:00 PM
Kalmar Restaurant
8076 King George Boulevard
Surrey, B.C., Canada, V3W 5B5
604.580.0112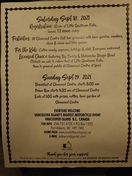 Send us notification of your event for this calendar. We will also gladly display most posters. Posters are acceptable in the following formats: JPG/JPEG, GIF, PNG (minimum width of 500 pixels required)
Ride For Teo Brideau [full printable version]
Celebration of life: Teo Brideau (Feb 1, 1942 to May 8, 2021). Saturday @ 1pm @ Langley Colussus, 20090 - 91st Ave., Langley, BC to Teo's old stomping grounds @ Marine Drive in White Rock then to Brownsville Pub for grub. Afterparty to follow. Camp overnight. Info: Nicolebrideau@yahoo.com.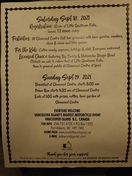 Port Alberni Toy Run [full printable version]
Saturday @ Glenwood Centre (fall fair grounds) @ Little Qualicum Falls, Vancouver Island. Breakfast @ 8am; poker run @ 9:30am; Registration @ 10am; Toy Run leaves @ noon and ends at 1pm @ Glenwood Centre. Beer Garden, vendors, show & shine, bike games, licensed dance, prizes, raffle. For the kids: cotton candy, popcorn, hot dogs & chili. Everyone welcome! 250-731-4728; patoyrun@gmail.com; www.portalbernitoyrun.ca
Vancouver Motorcycle Show [full printable version]
Friday - Sunday @ Tradex, Abbotsford. Come and discover what's new in the world of motorcycling post-pandemic. Free motorcycle parking. She Rides - connect with other female riders (Friday night only; women 1/2 price after 5pm; Yamaha Riding Academy for 6 - 12 year olds; Win a Kawasaki Z400 ABS. https://www.vancouvermotorcycleshow.ca/visitor-info/
Events, posters, and other information presented within this calendar are, to the best of our knowledge, true and accurate; although we make a genuine effort to provide accurate information about third party events, you are ultimately responsible for verifying the information to rule out the possibility of errors, omissions, and unexpected changes or cancellations.