Benefits and Resources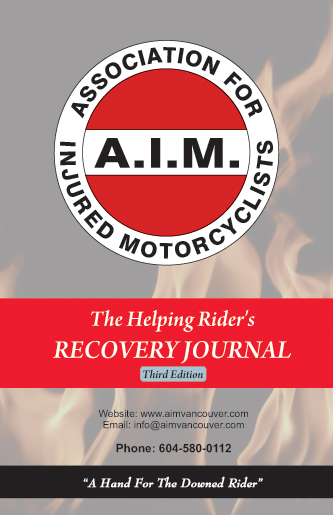 Below is the A.I.M. Recovery Journal which is provided to each downed rider in hospital. It contains information about Income Tax Issues, Benefits, and Resources. Additional information regards how to choose a lawyer, legal resources, your Rights, patients' Rights, ICBC claims process, license recovery (car - Class 5, and motorcycle - Class 6), and motorcycle modifications for handicap. At the end of the Recovery Journal are three articles, written by lawyers, explaining how the ICBC insurance system works: coverage, claims, and motorcycle claims.
[ Follow this link to download the 2015 AIM Journal (28 MBs) ]
After you have searched through the highlighted "Income Tax Issues," "Benefits," and "Resources" sections, we encourage you to read the entire Recovery Journal as it contains a lot of valuable information that can help with your recovery.

Topic
Page
Blink of an Eye (poem)
2
Table of Contents
3
Preface
4
Ownership / Confidentiality Agreement
10
Important Contacts
11
Rights
14
LEGAL
20
Insurance
26
Part 7 Benefits (ICBC Insurance)
46
Licensing
50
Vehicle Modifications
60
Motorcycle Modifications
62
Income Tax Issues
70
BENEFITS
76
RESOURCES
98
I Believe (poem)
142
Diary
143
Calendars
191
Pocket Page
193
List of Advertisers & Sponsors
196
Index
197