⇛ Supporters
Calendar of events
(Switch to text-only "list" view which is best for printing.)
A.I.M. Vancouver General Meeting
(British Columbia)

3rd Thursday of every month, 7:00 PM
ABC Restaurant
Unit 101 - 15373 Fraser Highway
Surrey, B.C., Canada
604.580.0112
Send us notification of your event for this calendar. We will also gladly display most posters. Posters are acceptable in the following formats: JPG/JPEG, GIF, PNG (minimum width of 500 pixels required)

Baggers & Hawgs Den Duffey Lake Loop Overnighter in Clinton [full printable version]
Sat - Sun. Leave from Trev Deeley's @ 9am, Saturday. Sing up at www.hawgsden.com to RSVP & see last minute updates for this event.
Brendan's Ride for Easter Seals [full printable version]
Saturday. Cruise up the Sea to Sky Hwy, then participate in the Show n' Shine at Camp Squamish. $30 registration includes event t-shirt, breakfast at The Henry in Cloverdale. Open to motorcycles and classic cars. Lunch provided by Sammy J's Grill & Bar and live entertainment from Karen Lee Batten; Show n' Shine, 50/50, silent auction. Info: www.brendensride.com or http://www.eastersealsbcy.ca/default.aspx?PageID=1119 or Connie Silas, 604-873-1865 (Ext. 423).
Burnaby Museum Father's Day Event [full printable version]
11am - 4pm @ Burnaby Village Museum, 6501 Deer Lake Ave, Burnaby, BC. Cars and bikes. Family oriented. Terry Rea: 604-298-1965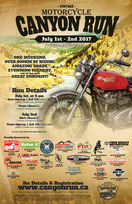 Vintage Motorcycle Canyon Run [full printable version]
Sat-Sun. Saturday: 9am leave from Highway 1, Exit 104-Cultus lake @ 39980 S. Parallel Road, Abbotsford; finish @ Cayoosh Campground, Lillooet, BC. Sunday: leave Cayoosh Campground & end up where you started @ 39980 S. Parallel Road, Abbotsford. Details & Registration: contact@canyonrun.ca or visit: www.canyonrun.ca.
Old Times In The Park Antique Free Vintage & Classic Motorcycle Exhibition [full printable version]
Fri - Sun @ Hawrelak Park, Edmonton, Alberta. Hosted by NORAL: Olde motorcycles, BBQ, Poker Run, Gear, accommodation available = register beforehand. Contact Jim_Briggs@shaw.ca or 780-930-1519 for more info or the entry form.
Trev Deeley's 4th Annual show & Shine [full printable version]
10am @ 1875 Boundary Road, Vancouver, BC. Olivia: 604-293-2221

Harley-Davidson Baggers & Hawgs Den Barkerville & Beyond Ride [full printable version]
Starts at the Chevron @ 885 Water Ave., Hope, BC @ 8:30am on Friday, July 14-17, 2017.
Pender Highlanders Show n Shine [full printable version]
11am - 3pm, Pender Island, behind Community Centre. 250-222-0375
Jul
30 - 03
Aug
Sun - Thu
Geezers on Wheezers [full printable version]
Sun-Thur @ Vegreville, Alberta. Ride the Iron Horse Trail along an old railroad bed in northeastern Alberta. This event is geared to the oldest bikes and frail-est riders. There will be a follow-up vehicle to provide transport of camping and personal gear and for bike pick-up. Rain or shine; ends back in Vegreville. CVMG event. To Register: Hans or Mary Ann Van Huystee Phone: 780 462 1842 or e-mail: b1953@telusplanet.net
Sasquatch Inn 12th Annual Motorcycle Show n Shine [full printable version]
Sunday @ Sasquatch Inn, 46001 Lougheed Hwy, Harrison Mills, BC. 12pm - 6pm, rain or shine, hot rods welcome. Official judges, loads of prizes & donations to Zajac Ranch for Children. Nancy @ 604-556-6542 or shownshine@sasquatchinn.ca or 222.sasquatchinn.ca
4th Annual Classic Car Show [full printable version]
Tuesday evening @ 5:30pm - 8pm @ 2400 Motel, 2400 Kingsway, Vancouver, BC (just east of Nanaimo St. on Kingsway). Vintage Car Club of Canada. RAIN OR SHINE! Special Feature: Vintage Motorcycles of all eras. Open to vintage vehicles of any era in stock condition (please, no custom/modified vehicles). A light dinner will be provided for all participants. Please bring a non-perishable donation for the food bank. RSVP: Pre-register with Peter Findlay: 604-436-4547 or pfindlay@duetsoftware.ca. Also: www.2400 motel.com.
18th ANNUAL GF STRONG RIDE-IN SHOW-N-SHINE [full printable version]
9am - 2pm @ GF Strong Rehabilitation Center, 4255 Laurel St, Vancouver BC. Rain or Shine. Show & Shine all bikes including modified. Burgers & dogs (free for residents), pop, coffee. Live music, paint-on tattoos, family event. Meet interesting people. Support downed riders and residents at GF Strong. Proceeds to an item needed by all residents at the Centre. 604-580-0112; info@aimvancouver.com; www.aimvancouver.com.
5th Annual BurnOuts In The Sky - Bradley McPherson Memorial Show & Shine [full printable version]
Saturday @ 8am @ Cloverdale Fairgournds, 6050A - 176 St. (entry on 62nd Ave.), Cloverdale. Scholarship Fundraiser. Cars, trucks, motorcycles ($20 entry fee). Trophies, Specialty Awards, Club Recognition. Live entertainment, beer gardens, 50/50, Silent Auction, VanCity Stunters, Vendors Alley. Email: burnoutsinthesky@gmail.com, or: 604-360-7455.

Harley-Davidson Baggers & Hawgsden Ride to Winthrop, Twisp & Whistlin Jack Lodge, Mount Rainer, Wash. [full printable version]
Sat - Aug 19. 3 days & 2 nights. Leave Chevron, 725 Cherry St., Sumas, Wash. @ 9am sharp. Sign up and RSVP @ www.hawgsden.com. All bikes welcome!
Bikers For Burns Ride [full printable version]
Trev Deeley Vancouver to Squamish Sea to Sky Ride. 10:30am. Wrap up party from 1pm - 3:30pm in Squamish includes tons of prizes, 50/50, by donation BBQ, silent auction, great people, awesome memories, helping burn survivors. Registration fee & Donations: $ 25 minimum per person. Contact: www.florianknights.ca or Nick: info@florianknights.ca
A.I.M. HELLRAISERS DANCE [full printable version]
7pm - 1am @ Sangam Palace, 11267 - 125A St., Surrey, BC. Door Prizes. Food Sales 8pm. Fundraiser Dance to support A.I.M. Tickets $ 15.00. 604-580-0112 or info@aimvancouver.com.
Events, posters, and other information presented within this calendar are, to the best of our knowledge, true and accurate; although we make a genuine effort to provide accurate information about third party events, you are ultimately responsible for verifying the information to rule out the possibility of errors, omissions, and unexpected changes or cancellations.