⇛ Supporters
Calendar of events
(Switch to text-only "list" view which is best for printing.)
A.I.M. Vancouver General Meeting
(British Columbia)

3rd Thursday of every month, 7:00 PM
ABC Restaurant
Unit 101 - 15373 Fraser Highway
Surrey, B.C., Canada
604.580.0112
Send us notification of your event for this calendar. We will also gladly display most posters. Posters are acceptable in the following formats: JPG/JPEG, GIF, PNG (minimum width of 500 pixels required)
Jul
30 - 03
Aug
Sun - Thu
Geezers on Wheezers [full printable version]
Sun-Thur @ Vegreville, Alberta. Ride the Iron Horse Trail along an old railroad bed in northeastern Alberta. This event is geared to the oldest bikes and frail-est riders. There will be a follow-up vehicle to provide transport of camping and personal gear and for bike pick-up. Rain or shine; ends back in Vegreville. CVMG event. To Register: Hans or Mary Ann Van Huystee Phone: 780 462 1842 or e-mail: b1953@telusplanet.net
4th Annual Classic Car Show [full printable version]
Tuesday evening @ 5:30pm - 8pm @ 2400 Motel, 2400 Kingsway, Vancouver, BC (just east of Nanaimo St. on Kingsway). Vintage Car Club of Canada. RAIN OR SHINE! Special Feature: Vintage Motorcycles of all eras. Open to vintage vehicles of any era in stock condition (please, no custom/modified vehicles). A light dinner will be provided for all participants. Please bring a non-perishable donation for the food bank. RSVP: Pre-register with Peter Findlay: 604-436-4547 or pfindlay@duetsoftware.ca. Also: www.2400 motel.com.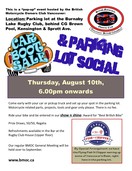 Car Boot Sale & Parking Lot Social [full printable version]
6pm @ Parking Lot at Burnaby Lake Rugby Club, behind CG Brown Pool, Kensington & Sprott Avenue, Burnaby, BC. This is a "pop-up" event hosted by the British Motorcycle Owners Club Vancouver (BMOC). Come early and set up your car or pickup with your parts, etc. for sale. No fee! Ride your bike and enter it in our Show n Shine. Prize draws, 50/50, Regalia. Refreshments in the Bar at the Rugby Club House (upper floor). www.bmoc.ca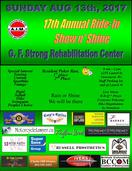 17th ANNUAL GF STRONG RIDE-IN SHOW-N-SHINE [full printable version]
RAIN OR SHINE! 9am - 2pm @ GF Strong Rehabilitation Center, 4255 Laurel St, Vancouver BC. Rain or Shine. Show & Shine all bikes including modified. Burgers & dogs (free for residents), pop, coffee. Live music, paint-on tattoos, family event. Meet interesting people. Support downed riders and residents at GF Strong. Proceeds to an item needed by all residents at the Centre. 604-580-0112; info@aimvancouver.com; www.aimvancouver.com.
5th Annual BurnOuts In The Sky - Bradley McPherson Memorial Show & Shine [full printable version]
Saturday @ 8am @ Cloverdale Fairgournds, 6050A - 176 St. (entry on 62nd Ave.), Cloverdale. Scholarship Fundraiser. Cars, trucks, motorcycles ($20 entry fee). Trophies, Specialty Awards, Club Recognition. Live entertainment, beer gardens, 50/50, Silent Auction, VanCity Stunters, Vendors Alley. Email: burnoutsinthesky@gmail.com, or: 604-360-7455.

Harley-Davidson Baggers & Hawgsden Ride to Winthrop, Twisp & Whistlin Jack Lodge, Mount Rainer, Wash. [full printable version]
Sat - Aug 19. 3 days & 2 nights. Leave Chevron, 725 Cherry St., Sumas, Wash. @ 9am sharp. Sign up and RSVP @ www.hawgsden.com. All bikes welcome!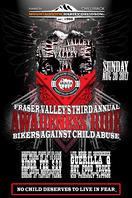 3rd Annual Child Abuse Awareness Ride [full printable version]
Sunday @ 8:30am @ Mountainview Harley-Davidson, 44768 Yale Road, Chilliwack, BC, by Bikers Against Child Abuse. Open to everyone. Lazy Biker breakfast by Chilliwack Firefighters. Rider fee $20. Destination = Fantasy Farms, 9423 Gibson Rd, Chilliwack, BC. Live music, hot food truck, petting zoo, bouncy castles, kid friendly tattoos. www.bacaworld.org.
DUKE'S PUB SHOW & SHINE [full printable version]
Sunday, 11am to 7pm. 41582 Yale Road, Chilliwack; just east of the Vedder Canal bridge, take exit 109. Bikes, Cars, Trucks. Registration by Donation. Special menu, outdoor BBQ, live music, prizes. Entire parking lot is fully licensed. 604-823-6431.
Bikers For Burns Ride [full printable version]
Trev Deeley Vancouver to Squamish Sea to Sky Ride. 10:30am. Wrap up party from 1pm - 3:30pm in Squamish includes tons of prizes, 50/50, by donation BBQ, silent auction, great people, awesome memories, helping burn survivors. Registration fee & Donations: $ 25 minimum per person. Contact: www.florianknights.ca or Nick: info@florianknights.ca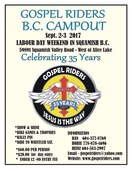 35th Gospel Riders B.C. Campout [full printable version]
Sat-Sun, Labour Day Weekend, @ 59891 Squamish Valley Road (west of Alice Lake), Squamish, BC. 35 YEARS. Show n Shine, bike games & trophies, rally pin, ride to Whistler on Sat. $ 60 per person, or $ 20 for day entry; under 12 no entry fee. Dan: 604-377-8769; Hobie: 778-878-4696; Heinz: 604-583-2997; gospelriders@yahoo.com; www.gospelriders.com.
7th Annual Crescent Beach Concours d'Elegance [full printable version]
Saturday @ Blackie Spit Park, Crescent Beach, Surrey, BC. Classic and vintage cars and motorcycles. 80 entries. Day pass $10; commemorative day pass $20; under 17 free. Phone Number: 604-263-3400 or Email: crescentbeachconcours@gmail.com.
A.I.M. HELLRAISERS DANCE [full printable version]
7pm - 1am @ Sangam Palace, 11267 - 125A St., Surrey, BC. Door Prizes. Food Sales 8pm. Fundraiser Dance to support A.I.M. Tickets $ 15.00. 604-580-0112 or info@aimvancouver.com.
Events, posters, and other information presented within this calendar are, to the best of our knowledge, true and accurate; although we make a genuine effort to provide accurate information about third party events, you are ultimately responsible for verifying the information to rule out the possibility of errors, omissions, and unexpected changes or cancellations.